The largest of the Canary Islands, Tenerife, is famed for its breathtaking natural scenery, varied species, and year-round warm weather. The island is a well-liked destination for those who enjoy the outdoors and seek adventure because it offers a variety of outdoor activities, including trekking. There are many opportunities to discover the island's natural wonders thanks to the several hiking paths that are dispersed throughout it. In this post, we'll take you on a tour of some of Tenerife's most breathtaking hiking paths.
Tenerife hiking: Things to know before going
Let's go over some crucial advice to help you have the most pleasurable and secure hiking experience possible in Tenerife before we start exploring the hiking trails:
Wear suitable clothing and footwear: Tenerife's terrain can be rough and hilly, so it's important to wear supportive hiking boots and loose-fitting, breathable clothing. Additionally important is sun protection, so put on a hat, some sunglasses, and sunscreen.
Keep yourself hydrated and maintain your energy levels by packing plenty of water and food. It's simple to underestimate how much water you'll require on a trek, so bring plenty.
Set boundaries: The hiking paths in Tenerife vary in difficulty, so pick one that matches your level of fitness and expertise. If you're uncertain if you can finish a difficult trail, don't attempt it.
Tenerife's natural landscapes should not be damaged because they are valuable and should be protected. Don't trash, stay on the designated routes, and don't frighten the wildlife.
Top Tenerife Hiking Routes
The Mount Teide Path in Teide National Park (Difficulty: Hard)
The 3,718-meter Mount Teide, which is Spain's highest peak, may be reached at the end of a strenuous but rewarding trek on the Mount Teide trail. The trek begins at the Montaña Blanca parking lot, and the 14-kilometre ascent takes about 6-7 hours. Views over the surrounding area, including the Las Cañadas caldera and the neighbouring islands of La Palma, La Gomera, and El Hierro, are breathtaking from the walk. Due to its elevation and difficult terrain, the Mount Teide Path is only advised for seasoned hikers.
Pico del Inglés – Anaga Rural Park (Difficulty: Medium)
Northeast of Tenerife is where the Anaga Rural Park, a UNESCO Biosphere Reserve, is situated. One of the most well-liked hikes in the park is the Pico del Inglés trek, which offers stunning views of the untamed coastline and verdant surroundings. The 7-kilometre trail, which begins in Cruz del Carmen, takes 2 to 3 hours to complete. Hikers should be in good physical shape because the terrain is rough and steep in several spots.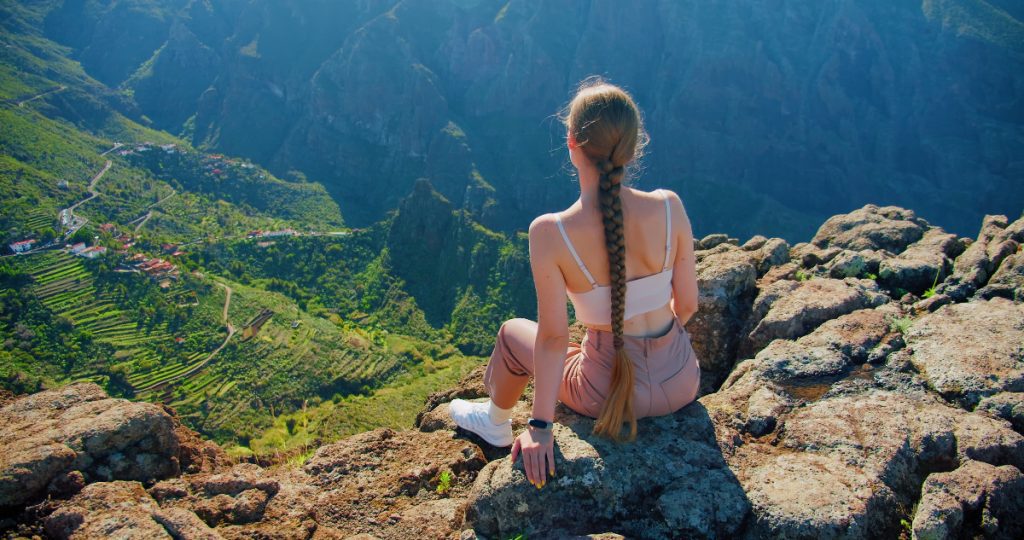 Gorge de Masca (Difficulty: Hard)
A difficult yet thrilling trek leads you through one of Tenerife's most beautiful vistas on the Masca Gorge hike. A steep ravine leads to the sea from the trail's beginning in the quaint village of Masca. The 6-kilometre walk takes about 3 to 4 hours. Hikers should be in good physical shape because the terrain is rough and steep in several spots. This walk is a must-do because of the breathtaking cliffs and ocean vistas.
Path to Las Carrizales in Teno Rural Park (Difficulty: Easy)
Northwest of Tenerife is where you'll find the Teno Rural Park, which has a variety of hiking paths for hikers of various skill levels. The 6.7-kilometre Los Carrizales Trail is a short, easy hike that begins in the nearby community of Los Carrizales and takes between two and three hours to complete. Beautiful views of the rocky coastline, the adjacent towns, and the unusual rock formations may be seen from the climb. The trail is a fantastic choice for families with kids and is accessible to hikers of all fitness levels.
Valley of La Orotava – Rambla de Castro (Easy Difficulty)
The Rambla de Castro trek offers breathtaking views of the sea, the cliffs, and the surrounding countryside as it meanders along La Orotava Valley's shoreline. The five-kilometre trail, which begins near the Rambla de Castro's entrance and lasts about two to three hours, is rather flat. The trail is largely flat and quite straightforward, making it suitable for hikers of all fitness levels.
Conclusion
The hiking routes in Tenerife provide a variety of experiences, from strenuous climbs to leisurely seaside strolls, each providing a different perspective of the island's natural treasures. You may maximise your hiking experience in Tenerife by paying attention to our advice and picking the best trail for your level of experience and fitness. The island's trails provide something for everyone, experienced or novice hikers alike.
FAQs
Are Tenerife's hiking paths suitable for families with young children?
Indeed, Tenerife has a number of family-friendly hiking trails, including the Rambla de Castro walk and the El Carrizales Trail.
Are Tenerife's hiking trails clearly marked?
Signposts are positioned at regular intervals and the hiking trails in Tenerife are clearly marked for hikers' convenience.
What time of year is ideal for trekking in Tenerife?
Tenerife's hiking paths are accessible all year long because of the island's pleasant, sunny weather. Nonetheless, the milder months from November to March are the greatest for hiking.
Do I require a guide if I want to hike in Tenerife?
Hiking in Tenerife doesn't require a guide because the routes are well-marked and open to hikers of all skill levels. Nonetheless, a number of tour companies provide guided hiking trips if you don't know the area well or would rather have a guide.
Are there any risks involved with hiking in Tenerife?
When hiking in Tenerife, it's important to bring the right gear, stay hydrated, and be aware of your limitations. To ensure a safe and enjoyable hiking experience, stay on the designated trails, avoid hiking alone, and respect the nature. Also, it's critical to pay attention to the weather and any potential dangers, such as rocky terrain and steep drops, and to take the necessary safeguards.
Do I need a permit to hike the Mount Teide trail?
Yes, entry to the Mount Teide trail requires a free permit. The National Park's visitor centre offers both in-person and online options for obtaining the permits. To ensure the environment of the National Park is protected, it is advised to apply for the permission in advance.
If you are looking to have a great time, don't forget to check our guide on Best Free Things To Do In Tenerife, and have a look on our fantastic boat trips!